Texas Attorneys at the Law Office of Dana L. White Were Voted among Greater Fort Worth's "Top Attorneys" by their professional peers.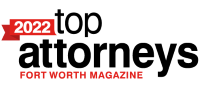 After thousands of nominations were submitted from colleagues and other licensed attorneys, the Fort Worth Magazine editorial team selected 695 attorneys based on those receiving the most nominations.
The annual Top Attorney list appears in Fort Worth Magazine's December 2022 issue as well as on our website, fwtx.com.
https://fwtx.com/top-attorney-2022?featured=true&mc_cid=18285471cb&mc_eid=baecdfc452
A reception was also held in celebration of those being honored as Top Attorneys at the 2022 Top Attorneys Cocktail Reception.
What a great honor! Thank you to those who voted for us!
Here are our winning "Top Attorneys":
Family Law:
Dana L. White
Kathleen "Katie" Berry
J. Trevor Cantrell
Immigration:
Lisa McBee